What is an Optomap Scan?
Optomap is an ultrawide scan of the back of the eye. It uses red and green lasers to produce an image showing more of the back of the eye than ever before, hence the term ultrawide.
 What is the benefit to me?
You want to know your eyes are healthy and an Optomap scan provides the additional peace of mind and reassurance that your eyes are as healthy as we think they are. It allows us to see up to 85% of the retina - a normal eye examination can really only see about 20% of the retina, even a retinal camera can only see around 15%. Not only does an Optomap scan show us the far periphery of the retina (that you just can't see it without this technology), but it also gives us diagnostic and functional information about the retina and the health of your eyes. 
The difference between an Optomap image and a retinal photograph
The image on the right shows the photo you get with a standard retinal camera in the centre and you can easily see the difference to the optomap image on the left with gives the full retina.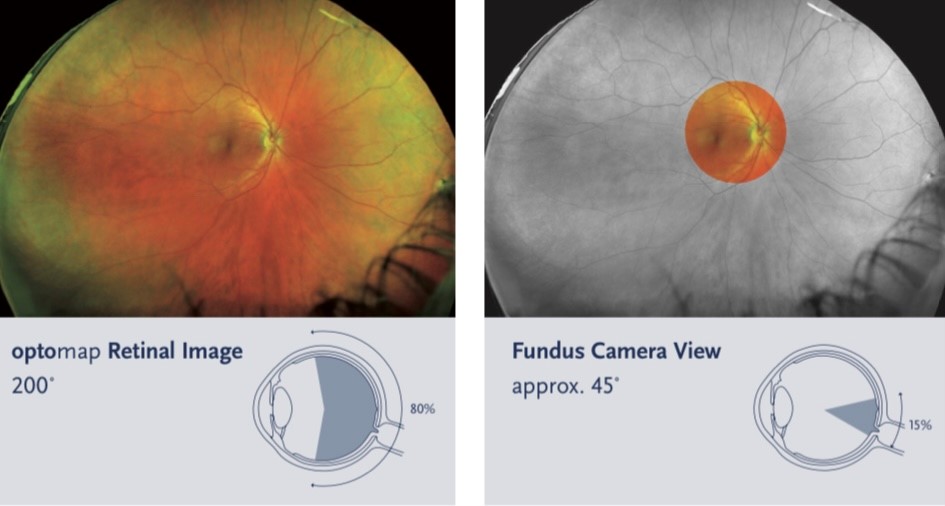 Does it hurt?
The scan is completely painless and takes less then a second to do each one. It's like having a green looking light whipped across your eye really quickly. You do not need to have any drops in the eyes either.
Why do we use it?
 We don't have any other way of seeing that far into the periphery of the retina. That's the first reason why we use it, we can see parts of your eye with it that we couldn't before. The second reason that we use it is because of how it works. It scans round he eye with 2 different lasers, one red and one green. These different lasers image different depths of the retina - the red images the deeper retina and the green the outer retinal layer. This can give us amazing diagnostic information. The other main reason is the functional scan it performs. This can show us if any parts of the retina are under stress and therefore if there is anything actively damaging the retina.
 Who needs an Optomap Scan?
 Everyone. It is such a great diagnostic tool that everyone should have it done. It is the only way to see the peripheral parts of the retina. It is suitable for every age group - from 3 years old to 103.